Article
A Taxonomy of Secondary School Athletic Team Names and Mascots in the United States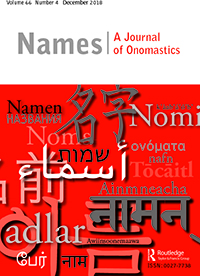 Published 2018-10-02
Copyright (c) 2018 American Name Society
This work is licensed under a Creative Commons Attribution 4.0 International License.
Abstract
Athletic team names are a fascinating yet understudied topic in onomastics. Inspired by the work of Nuessel (1994) and Smith (1997) and framed by the extensive toponymy approach described by Tent (2015), this study proposes a taxonomy of team names and mascots used by high schools in the United States. A list of 20,853 schools procured from the Clell Wade Coaches Directory catalyzed the study, and content analysis of school websites and social media accounts determined the mascots of ambiguous team names. The results include seven general categories: humans, fauna, flora, inanimate objects and phenomena, deities and spiritual beings, mythological creatures and beings, and schools not using team names. Most schools use an animal or human mascot, and prevailing themes among all names include a strong degree of convention in their selection, a high frequency of bellicosity in their character, and a small but notable observance of local distinctiveness in their presence.
References
Barlow, Sabrina, Betty Burdett, Damien Carey, Urania Fung, Patricia Healy, Tamara Hill, Amanda Huffner, Kelly Rowan, Christina Tonan, and Gary Wilkens. 2005. Mascot mania: Spirit of Texas high schools. Huntsville, TX: Texas Review Press.
Clell Wade Coaches Directory. 2015. 2015-2016 Nationwide School Database. <http://www.coachesdirectory.com> (accessed 1 June, 2016).
Franks, Ray. 1982. What's in a Nickname? Naming the Jungle of College Athletic Mascots. Amarillo, TX: Ray Franks Publishing Ranch.
Houck, Emerson. 2003. Hoosiers all. Carmel, IN: Hawthorne Publishing.
Houck, Emerson. 2013. Go Huskies! Beat Felix the Cat! The Story of America's High School Athletic Nicknames and Mascots and What They Reveal about Who We Are. Indianapolis, IN: Bradford House.
Lofaro, Michael A., ed. 1985. Davy Crockett: The Man, the Legend, the Legacy, 1786-1986. Knoxville, TN: University of Tennessee Press
Massey, Kenneth. 2017. High School Mascot Count. Massey Ratings Mascot Database. <https://www.masseyratings.com/mascot.php> (accessed 10 November, 2017).
Moody, Jennifer. 2018. "South Albany moves forward on possible Rebel change." Albany Democrat-Herald, February 6. <http://democratherald.com/south-albany-moves-forward-on-possible-rebel-change/article_9a7c6392-ad9a-5c1a-9556-ce8d8355fae1.html> (accessed 17 February, 2018).
Nuessel, Frank. 1994. Objectionable sports team designations. Names: A Journal of Onomastics 42(2): 101–119.
Ozark, Arkansas Public School District. 2018. Ozark Public Schools Home Page. <http://www.ozarkhillbillies.org> (accessed 2 January, 2018).
Roemeling, Alisha. 2018. "South keeps 'Axe,' lops 'men.'" Eugene Register-Guard, February 12. <http://registerguard.com/rg/news/local/36441447-75/in-a-fell-swoop-the-axemen-of-south-eugene-high-school-become-the-axe.html.csp> (accessed 18 February, 2018).
Rose, Gillian. 2016. Visual Methodologies: An Introduction to the Researching with Visual Materials. London: SAGE Publications.
Sledge, Rob. 2005. It's a Jungle Out There: Mascot Tales from Texas High Schools. Abilene, TX: State House Press.
Smith, Grant. 1997. "School Team Names in Washington State." American Speech 72(2): 172–182.
Stevens, Nick. 2018. "South Garner looking for input on mascot." WRAL High School OT, February 15. <http://www.highschoolot.com/south-garner-looking-for-input-on-mascot/17344133/> (accessed 20 February, 2018).
Stewart, George R. 1970. American Place-Names: A Concise and Selective Dictionary for the Continental United States of America. Oxford: Oxford University Press.
Taylor, Michael. 2013. Contesting Constructed Indianness: The Intersection of the Frontier, Masculinity, and Whiteness in Native American Mascot Representations. Lanham, MD: Lexington Books.
Tent, Jan. 2015. Approaches to research in toponymy. Names: A Journal of Onomastics 63(2): 65–74.
Willman, Fred. 2005. Why Mascots Have Tales: The Illinois High School Mascot Manual. Naperville, IL: Mascot Publishing.
Zeitler, Ezra J. 2008. "Geographies of Indigenous-based Team Name and Mascot Use in American Secondary Schools." PhD diss., University of Nebraska-Lincoln. <https://digitalcommons.unl.edu/geographythesis/7/> (accessed 1 December, 2017).
Zeitler, Micah A., and Petzold, Donald E. 2001. Lions and tigers and bears: The geographical significance of Wisconsin public high school nicknames. Wisconsin Geographer 17: 25–36.
Zelinsky, Wilbur. 1988. Where every town is above average: Welcoming signs along America's Highways. Landscape 30 (1): 1–10.