Research Article
The Ethnonyms ?Aunin, Topnaars, and !Naranin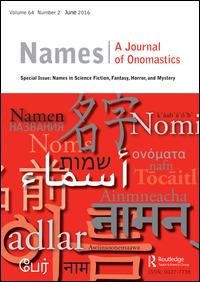 Published 2010-03-01
Keywords
CHINESE

,

JAPANESE

,

KOREAN

,

ANGLICIZATION

,

IDENTITY
Copyright (c) 2010 Maney Publishing
This work is licensed under a Creative Commons Attribution 4.0 International License.
Abstract
Abstract
The ?Aunin, also called Topnaars and !Naranin, are an exceptional people, currently regarded as Nama (Khoikhoi) but thought to be originally San (Bushmen). They inhabit the Walvis Bay area and Kuiseb Valley in Namibia, and live primarily from fishing, and from harvesting the seeds of !nara (Acanthosicyos horrida) plants. Various explanations of the names ?Aunin and Topnaars have been encountered, the most popular linking the former to the Khoikhoi (Nama) word ?aub "peak, top, point, pinnacle," etc., and the latter to the English, Dutch, and Afrikaans word top and the Dutch and Afrikaans substantive ending -naar. The present paper postulates on linguistic and anthropological grounds that the name ?Aunin reflects the unique means of livelihood of these people by fishing.
References
Andersson, C.J. 1856. Lake Ngami or Explorations and Discoveries during Four Years of Wandering in Wilds of South-Western Africa. London: Hurst and Blackett.
Bleek, D.F. 1956. A Bushman Dictionary. New Haven: American Oriental Society.
Bosman, D.B. & Thom, H.B. (red.) 1952–1957. Daghregister Gehouden by de Oppercoopman Jan Anthonisz van Riebeeck. 3 dele. Kaapstad: A.A. Balkema.
Budack, K.F.R. 1977. The ≠Aonin or Topnaar of the Lower Kuiseb Valley and the Sea. Khoisan Linguistic Studies 3. Ed. by A. Traill. Johannesburg: African Studies Institute, University of the Witwatersrand,1–37.
Chapman, J. 1971. Travels in the Interior of South Africa 1849–1863. 2 vols. Cape Town: A.A. Balkema (Facsimile reprint).
Green, L.G. 1952. Lords of the Last Frontier. Cape Town: Howard Timmins.
Grundemann, R. 1867. Allgemeine Missions-Atlas, nach Originalquellen bearbeitet. Erste Abteilung: Afrika,Lieferung II. Gotha: Justus Perthes. Skaal 1:3,000,000.
Hoernle A.W. 1926. The Social Organization of the Nama Hottentots of Southwest Africa. American Anthropologist, 27(1): 1–24.
Knudsen, H.C. 1848. Gross Namaqualand. Barmen: Steinhaus.
Kroenlein, J.G. 1889. Wortschatz der Khoi-Khoin. Berlin: Deutsche Kolonialgesellschaft.
McKiernan, G. 1954. The Narrative and Journal of Gerald McKiernan in South West Africa, 1874–1879. Cape Town: Van Riebeeck Society.
Meinhof, C. 1909. Lehrbuch der Nama-Sprache. Berlin: George Reimer.
Miller, W.B. 1975. Wal vis Bay. Standard Encyclopaedia of Southern Africa. Ed. by D.J. Potgieter, et al. Cape Town: Nasou, vol. 11,313.
Möller, L.A. 2008. Personal communication.
Moritz, E. 1916. Die Reisen Scheppmanns. Die ältesten Reiseberichte über Deutsch-Südwestafrika; Mitteilungen aus den deutschen Schutzgebieten, 29(4): 236–45.
Moritz, W. 1980. Namen der Topnaar. Namibiana, 2(2): 37–41.
Nicolaisen, W.F.H. 1976. Scottish Place-Names; Their Study and Significance. London: Batsford.
Nienaber, G.S. 1963. Hottentots. Pretoria: J.L. van Schaik.
Nienaber, G.S. 1989. Khoekhoense Stamname: 'n Voorlopige Verkenning. Pretoria: Academica.
Pettman, C. 1931. South African Place Names Past and Present. Queenstown: Daily Representative Limited.
Raven-Hart, R. 1971. Cape Good Hope 1652–1702. 2 vols. Cape Town: Balkema.
Rust, Fr. Deutsch-Nama Wörterbuch. Windhoek: Rheinische Mission in Südwestafrika.
Schultze, L. 1907. Aus Namaland und Kalahari. Jena: Gustav Fischer.
Traill, A. 1974. The Compleat Guide to the Koon. Johannesburg: African Studies Institute,University of the Witwatersrand.
Traill, A. 2007. !khwa-ka hhouiten hhouiten "The rush of the storm": the linguistic death of /xam. Claim to the Country: the Archive of Lucy Lloyd and Wilhelm Bleek. Ed. by P. Skotnes. Johannesburg: Jacana,130–47.
Vedder, H. 1928. The Nama. The Native Tribes of South West Africa. Ed. by C.L.H. Hahn, H. Vedder, & L. Fourie. London: Frank Cass, 107–152.
Vedder, H. 1938. South West Africa in Early Times. London: Humphrey Milford for the Oxford University Press.
Wallmann, J.C. 1858. Die Hottentotten-Stämme und ihre geographische Verbreitung. Mittheilungen aus Justus Perthes Geographischer Anstalt. Ed. by A. Petermann. Gotha: Justus Perthes,53.
Watt, J.M. & Breyer-Brandwijk, G.M. 1962. The Medicinal and Poisonous Plants of Southern and Eastern Africa. 2nd ed. Edinburgh and London: Livingstone.
Weich, F. 2004. San English Afrikaans Dictionary. Braamfontein: Macmillan.