Research Article
A Note on Selected Names in James Hynes's Academic Novel The Lecturer's Tale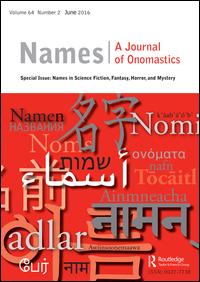 Published 2012-06-01
Keywords
Copyright (c) 2012 American Name Society 2012
This work is licensed under a Creative Commons Attribution 4.0 International License.
Abstract
Abstract
This note offers a brief discussion of selected names in the literary sub-genre commonly labeled the 'academic novel,' and exemplified in The Lecturer's Tale by James Hynes. It defines the genre and enumerates its most common features. Because this note constitutes an overview of nomenclature in one specific academic novel, it is exemplary rather than comprehensive.
References
Bailey Dale, Slay Jack. 2003. A Counterhegemonic World: James Hynes's Tales of Academic Horror. Studies in Popular Culture 25(3): 25–32.
Boyde MelissaJ. 2009. The Modernist roman a clef and Cultural Secrets, or, I Know that You Know that I Know that You Know. Australian Literary Studies 24(3–4): 155–166.
Caram RichardG. 1980. The Secular Priests: A Study of the College Professor as Hero in Selected American Fiction, 1955–1977. St. Louis, MO: St Louis University. Unpublished PhD. diss.
Dalton-Brown Sally. 2008. Is There Life Outside of (the Genre of) the Campus Novel? The Academic Struggles to Find a Place in Today's World. The Journal of Popular Culture 41(4): 591–600.
Fish Stanley. 1967. Surprised by Sin: The Reader in Paradise Lost. Cambridge, MA: Harvard University Press.
Foucault Michel. 1975. Discipline and Punish: The Birth of the Prison. New York: Random House.
Franzen Jonathan. 2001. The Corrections. New York: Farrar, Strauss, and Giroux.
Harshaw Tobin. 2001. Wanton Deconstruction. The New York Times Book Review, January 21, 30.
Hynes James. 2001. The Lecturer's Tale. New York: Picador.
List of fictional books. <http://dictionary.sensagent.com/list+of+fictional+books/en-en/> [accessed December 25 2011].
Lyons JohnO. 1962. The College Novel in America. Carbondale, IL: Southern Illinois University Press.
McCarthy Mary. 1952. The Groves of Academe. New York: Harcourt Brace.
Morris William, ed (ed.). 1979. The American Heritage Dictionary of the English Language. Boston: Houghton Mifflin Company.
Mott Benjamin. 1962. How to Write a College Novel. The Hudson Review 15(2): 243–252.
Nabokov Vladimir. 1955. Lolita. Paris: Olympia Press.
Nuessel Frank. 1992. The Study of Names: A Guide to the Principles and Topics. Westport, CT: Greenwood Press.
Nuessel Frank. 1999. Women's Contemporary Surnaming Patterns. International Journal of Applied Semiotics 1(1): 159–175.
Nuessel Frank. 2011. Titles: A Semiotic Perspective. Semiotics 2010: The Semiotics of Space. Ed. , Haworth Karen, Hogue Jason, Sbrocchi Leonard G, ed. Ottawa: Legas, 242–252.
Penultimate Lazarus. 2011. Review of The Lecturer's Tale by James Hynes. bookreporter, [accessed December 27 2011].
Pinkser Sanford. 2003. Review: Postmodernist Theory and the Academic Novel's Latest Turn. The Sewanee Review 111(1): 183–191.
Réage Pauline. [Pseudonym of Anne Desclos]. 1954. Histoire d'O. Paris: Olympia Press.
Scott RobertF. 2004. It's a Small World, After All: Assessing the Contemporary Campus Novel. The Journal of the Midwest Modern Language Association 37(1): 81–87.
Showalter Elaine. 2001. Academic Predators, Poseurs, and Heroes in three New Academic Novels. The Chronicle of Higher Education, 16 February, B-11–B-13.
Showalter Elaine. 2005. Faculty Towers: The Academic Novel and Its Discontents. Philadelphia: University of Pennsylvania Press.
Snow CP. 1951. The Masters. New York: Macmillan.