Book Review
Personal Names, Hitler, and the Holocaust. A Socio-Onomastic Study of Genocide and Nazi Germany.: By I. M. Nick. Lanham, Maryland: Lexington Books. 2019. Pp. xxvi + 469. US $140.00 (HB). ISBN 978-1-4985-2597-8.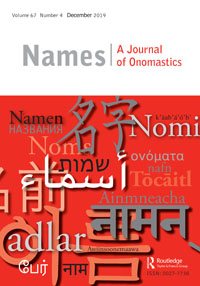 Published 2019-10-02
Copyright (c) 2019 American Name Society
This work is licensed under a Creative Commons Attribution 4.0 International License.